Are you not sure how to go about using the Microsoft Word Styles feature?
If you're a beginner to intermediate Word user, you may have seen but not really used the Styles Pane in the middle part of the Home ribbon. This post will cover five main topics:
A bit about Microsoft Word Styles
Styles are combinations of formatting characteristics that you can use to change the look and feel of document components, including headings, sentences, tables, and way more!
Word comes with a bunch of style presets. You can also make your own (we'll get into that in a bit). One common way to use styles is to apply heading styles throughout your document to lay out (or outline) its general structure.
Heading styles are useful, especially when working with a long or complicated document. With heading styles, you can easily see the outline or generate a table of contents, such as for a book manuscript, thesis, or dissertation.
The benefits of using styles in Microsoft Word
Styles have a number of benefits. Here are a few of the top reasons why you should be using styles instead of manually updating the formatting of your document each time you want a new look:
Styles help you establish and maintain a certain predefined look and feel throughout your document.
Styles are easily updatable, and when you make a change to a style that's been applied throughout your document (body text, for example), it cascades through to all the text that's had that style applied to it.
If you're generating a table of contents, styles are the way to do it. Learning how will save you tons of time, especially if you're a student.
How to use the styles that come with Word
Let's try out some styles by using the preset options that come with Word. You can access these preset options through the Styles Gallery on the ribbon's Home tab.

To apply one of these preset options, first select the text that you want to format. Then, pick the style you want to apply and click it. You'll see that the text you selected will update to match the style you chose. You can use any of these styles to format your text quickly and easily.
You can do quite a bit using the preset options that come with Word. Unless you are adhering to a specific style guide such as APA Style, Chicago Style, or a corporate brand style, you may not need to get into the weeds of adding and maintaining your own custom styles.
Or maybe, like us, you like to have a bit of fun in Word and want to know more.
How to set up your own styles
Maybe you're creating a custom look for a series of documents you're working on and don't want to go through the trouble of manually updating each block of text once it's all put together. Or you've been tasked with setting up a master template as part of a company brand initiative. Whatever your needs are, our instructions will help you set up and maintain styles like a pro.
Creating a new style based on existing text
If you've already got some text in your document with the formatting attributes you want your style to have, you can save a new style with the same formatting in no time.
First, select the text with the formatting you want to save.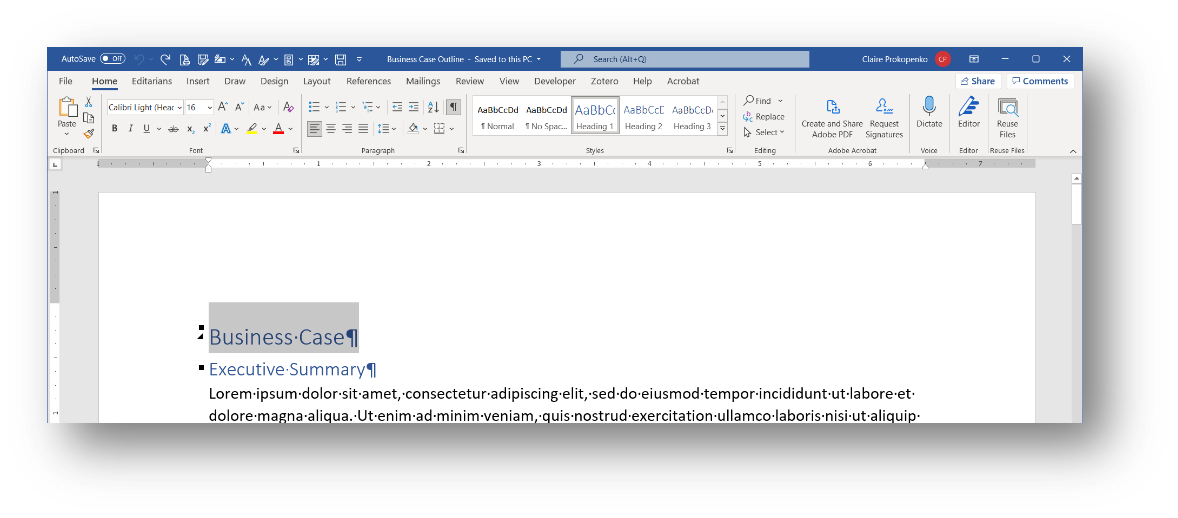 Next, navigate to the styles group on the ribbon. Keep the text selected.
Click the More button (arrow with a line above it) to open the list of styles. From the list that opens up, click "Create a Style."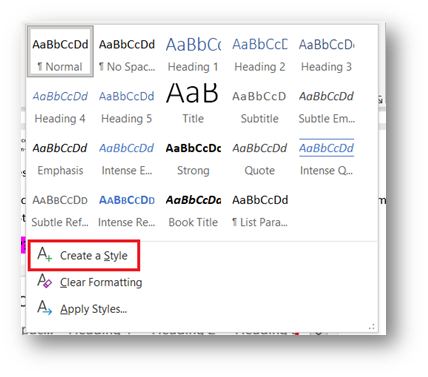 A dialogue box will pop up. Enter a name for the new style. Try to be descriptive so you'll know what you're looking at in the future. Don't follow my lead with this ambiguous style name!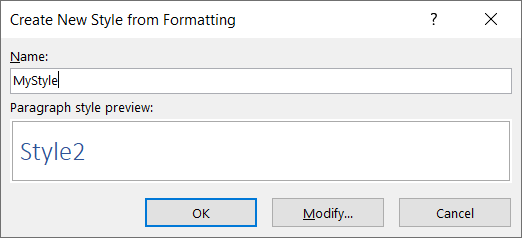 If you like the way the style looks in the preview, go ahead and save it. If not, you can use the Modify button to expand a menu with all the possible formatting options.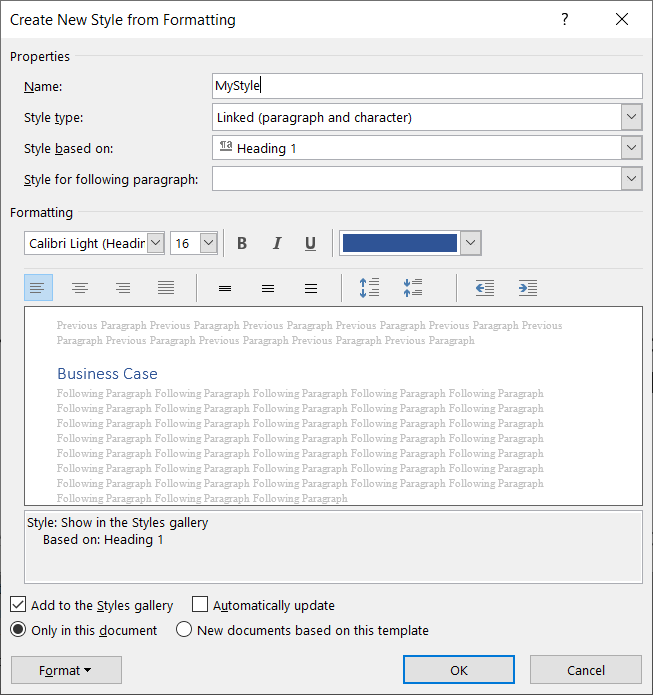 Modifying a style to match your selection
This is a good function to use if you've made some formatting changes to a style and want to update the saved style.
Select the text that has the formatting you'd like to update and then find the style on the ribbon or by using the Styles Inspector Pane (CTRL + SHIFT + S).
Right click on the style you want to update (or in the Styles Inspector Pane, click the small arrow that comes up to the right of the style name when you hover over it), then select "Update [Style Name] to match selection." Your style will be updated to match the text you selected.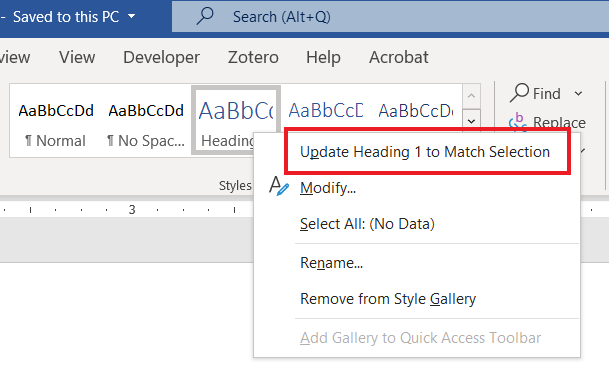 If you're working with a lot of styles and want an easier way to manage them, we recommend using the Styles Inspector Pane.
Using the mini toolbar to update styles
You can use the mini toolbar to update your styles, too. To do this, just select the text you want to apply a style to or create a style from. The mini toolbar will appear. Click the Styles button on the mini toolbar and select the option that you like—it works the same as the Styles Gallery on the ribbon.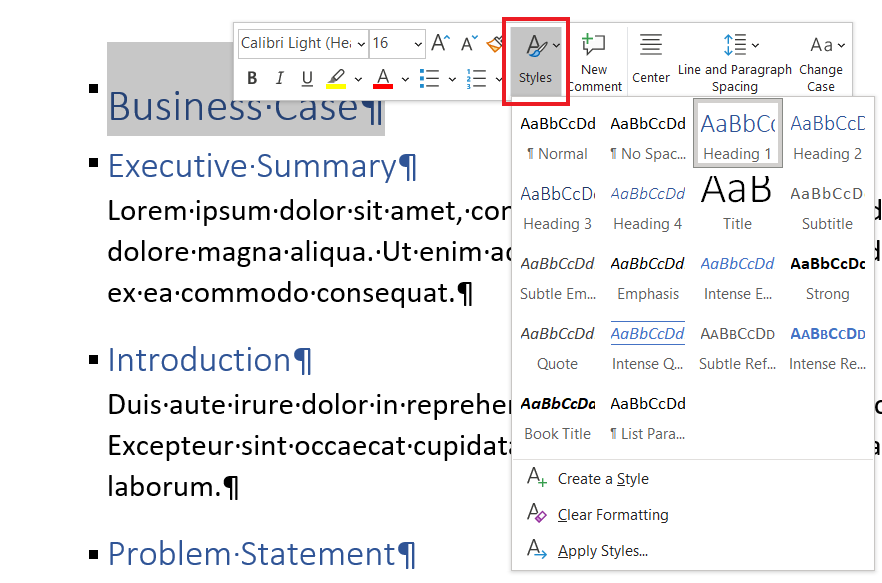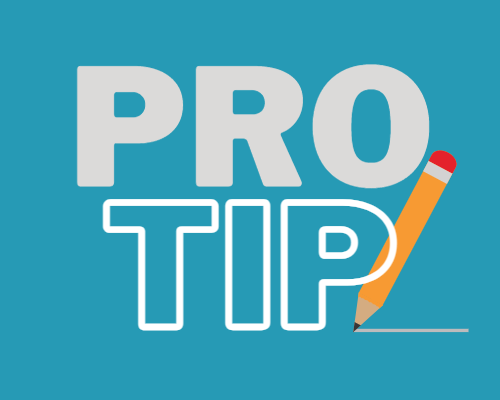 Using heading styles allows you to navigate through your document using the Navigation Pane (View > Navigation Pane). This is a huge help in a lengthy document that has a lot going on.
We hope this post answered all your questions about using styles in Microsoft Word. If there's anything else you'd like to know, leave us a comment, submit an Ask the Editor question, or send us an email.
If Word and APA tips and tricks are your thing, sign up to get email updates when we post a new blog or Q&A.